Advent 3(A): To Infinity and Beyond!
By: The Rev. Chana Tetzlaff
One of my favorite allegories for ministry comes from the scene in Disney/Pixar's original Toy Story, where toy space ranger hero, Buzz Lightyear, "proves" to Andy's other toys that he can fly. He climbs up the post of the footrest on Andy's bed, takes a deep breath, and confidently proclaims his trademark phrase: "to infinity and beyond!" With a leap off the bed, he soars toward the ground but at the last second lands on a bouncy ball, which catapults him head over heels onto a Hot Wheels car sitting at the top of its track. As he rides the car down the shoot and loops around the track, Buzz catches air once again and shoots up to grab the ceiling airplane. His momentum jolts the plane to circle faster and faster until it launches him into a graceful arc to land on his feet in front of the awed and astonished waiting toys. "It's true!" they exclaim in awe and wonder. He "flies!"  (Except Woody, who declares later that Buzz is simply "falling with style.")  Such is often the case with ministry as, despite our all too human quirks and foibles, the Holy Spirit brings grace and transformation out of our fumbling attempts to do God's work and will.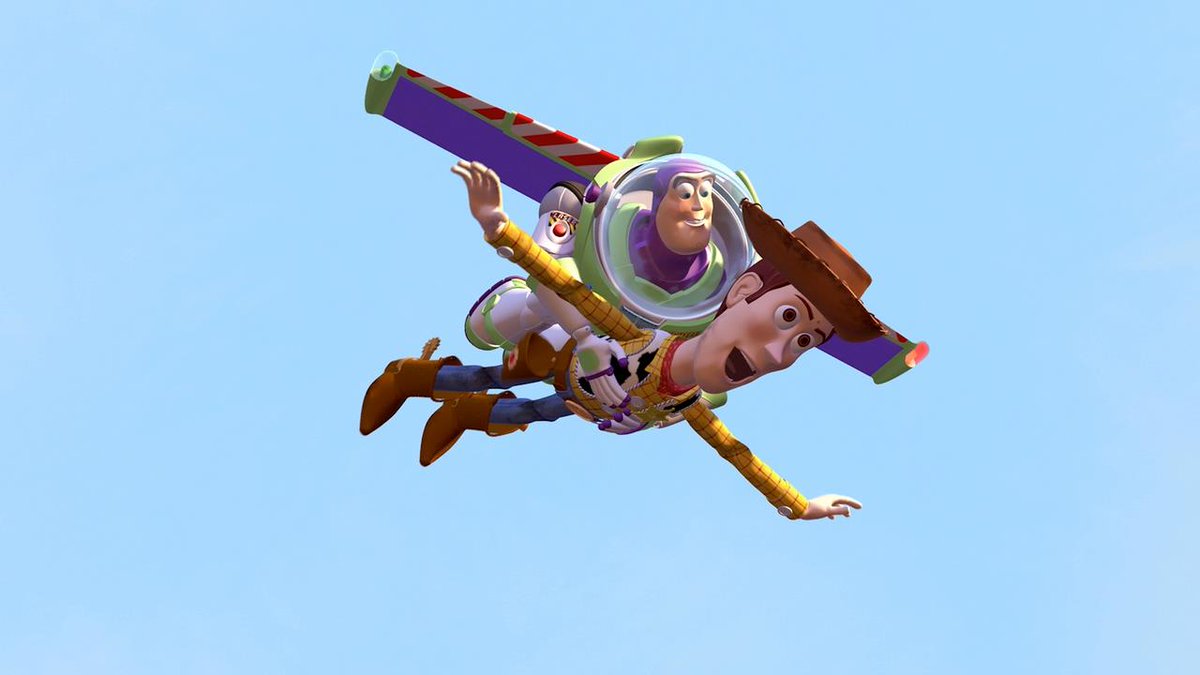 How many of us have had the humble moment of dissonance and disconnect when we, like Buzz later in the movie when he discovers he can't actually do all the things he thinks he can do, discover that our hard work in ministry doesn't always pay off? That often, instead of the awe and glory and miraculous transformation, what we think is our ability or gift doesn't seem to make much difference, might not actually accomplish the big change we thought was in the making, hasn't done much to usher in God's kingdom in the here and now. How many of us wonder if the miniscule return is worth the effort? That if the few moments we get it right make the many moments we don't worth the discouragement and disillusionment? I know I have.
This is why I find Mary so intriguing. Mary: a teenager pregnant out of wedlock, who faced sure and certain social, religious, and familial condemnation. Mary: sent away from her home, into "seclusion" if you will, to live with her cousin Elizabeth for at least nine months or perhaps until the scandal died down. Mary: facing the possibility of a broken engagement with Joseph, assured gossip and ridicule, and a lifelong precarious social position.
Despite these very real and prodigious challenges, Mary somehow sings with gladness and exultation. How does she do it? How does she find, as Isaiah describes, "waters breaking forth in the wilderness, and streams in the desert; the burning sand becoming a pool, and the thirsty ground springs of water?" How does she, like the farmer in James' epistle, wait with patience for the precious work of God to come into fruition before it has even begun? How does she act with confidence, proclaim salvation already at hand without the doubt of John in Luke's Gospel, questioning "is this really it, God, or should I keep waiting for you to make it more clear?" And most intriguing: how does she do it all with quiet peace and without grumbling, moving forward in confidence though there is no indication whatsoever that everything is going to work out okay?
It's a question that has haunted me for over a year. A question that began burning as I trekked my way along the Camino de Santiago, that weighed on my shoulders as I traversed the landmines of an unintentional interim ministry, and eventually experienced "the worst"—finding myself unexpectedly unemployed with no immediate prospects on the horizon. I found myself in the place so many people do so very often in life: liminal space. It's a word I first heard while in seminary, a word thrown around as our young heads nodded wisely without truly knowing. The Latin word is limen. Limen. Threshold. It's the word that best describes Advent, the actual living in the already-but-not-yet promise of anticipatory hope. Coach and poet Christine McDougall, in her poem Liminal, defines that anticipatory hope differently than Mary. She writes:
The space between
Neither this
nor that
Ripe, potent,
uncertain, shaky
A Dawning, a Dusking …
The immanent threshold
emerging
Crossing … to what?
Slow down
The moment is calling you
to pay … exquisite … attention
Advent is truly a liminal season, a betwixt and a between; rife with hope, temerity, grief, cold dark, warm glowing light. It is a season ripe and potent as we look forward to the incarnation of God with us, of the Christ Child. Advent is an immanent threshold that calls us to slow down and pay exquisite attention to all that roots and coils within us, to watch and wait for God's infinite plan for our salvation, personal and corporate, to unfold. Advent is a time during which we turn toward the promise of what-is-to-come, an act which requires us to let go and mourn that which must die in us to allow that promise or desire to unfold. Advent, liminal space, betwixt and between, not yet is not a comfortable space. Perhaps that is why the season is only four weeks – it is difficult, even dangerous to make our home in the unknown and the amorphous for too long. Far more comfortable to move from what has been to what will be, than to live in the in-between of not yet that is now. And yet, this is what we all do at any given time in our lives, live on the threshold of the next thing, for nothing in life is constant. Advent is the poster-child of the old adage that "the only constant is change." Perhaps this is why the glow of candles on Christmas Eve warms us so. The waiting and watching, the not knowing, is finally done. Now we know all is well, and we can breathe a sigh of relief.
And yet, we know, too, that Advent will come again and again and again. I have always thought of the spiritual journey as circling a mountain. We slowly spiral our way around, sometimes climbing, sometimes descending in order to climb again, seeing the same view over and over again but often from a different vantage point depending on our spiritual growth or palsy. Gary Snyder's short poem, On Climbing the Sierra Matterhorn Again After Thirty-One Years, captures, for me, the goal of the spiritual life:
Range after range of mountains
Year after year after year.
I am still in love.
How do we shift from discomfort to become friends with the uncertain and unknown? How do we wait with patience for the crop to come to fruition, how do we experience joy in all circumstances, how do we find peace in the midst of the varied changes and chances of life?
The answer is simple. Trust God. Trust God with the faith of Mary, the faith of Isaiah, the faith of Shadrach, Meshach, and Abednego. Trust God so completely that you have no fear of fallout, no fear of survival, no fear for what may befall.  Easy, right?
Not easy. Not remotely easy. There is a cost to discipleship, to following God with this level of commitment. The cost might be high. The cost will likely require abject humility, an unflinching examination of self, courage to embrace and heal the parts and pieces of your self that are messy, and broken, and maybe even unlovable. It is not easy to hold on to the absolute and unflinching trust, that you are enough, that God created you to be who you are in all your imperfect, messy, learning, be-ing and that God has prepared a place and a purpose for YOU – especially when it seems that everyone around you has an opinion otherwise.
That is the trust with which Mary lived. That is the trust that she taught Jesus to live. That trust is what gave them, and countless others, absolute, unshakable confidence and peace. The lack of fear terrified the people around them, terrified them because we humans are accustomed to being bound by the limits people around us impose. But Mary, and Jesus, Isaiah, and countless others lived beyond the limits. They lived, in their here and now, in the realm of the Infinite, the creative, the realm of boundless possibility rather than the finite world the rest of us inhabit. They lived as if God's promise was already a reality, even if there was no sign in the moment that God's promise was even a possibility.
Soren Kierkegaard once wrote that "Life can only be understood backwards; but it must be lived forwards." Liminal space is a constant in our lives, but so is God's promise.  So when we find ourselves in those tenuous moments of not knowing, when we can't understand why it is that we are going through what we are going through, can we trust? Not blindly, expecting God to magically work everything out into a smooth, even path. But with trust – like Isaiah, James, Mary, Jesus and all the other saints who have gone before us, choosing to live confidently in the God's promise to do what God has said God will do as if it is already a reality, as if God is already at work. It is not an accident that the very first words of the gospel, the good news, are "Do not be afraid." To be free from fear and angst… what kind of peace would that freedom give us?
In his writing on liminality, poet and storyteller Padraig O'Tuama tells the story of the work he does at Corymeela, a place and people that seeks to make peace between Catholics and Protestants in Northern Ireland. "A practice of peace," he writes, much like dwelling in an advent liminal space, "is messy. It is not easy. It is fragile and thin and breakable. It is a verb, not an achievement. It needs to be conjugated regularly. It is the experience of having been torn. And, having been torn, staying with that new shape and finding dignity in language, in protest, in lamentation, in justice, in re-ordering, in catharsis. It's not a landscape; it's staying alive… Liminality, if it means anything, must be as truthful as forgiving, as confessing, as breathing, as surviving."
Mary does all of these things in her Canticle of praise, as do Isaiah, and James, and many others. In her song she names the tearing of her personal and corporate life, finds dignity in language, in protest, in lamentation, in justice, in re-ordering, in catharsis. Mary stays alive and survives, but also thrives in God's promise of mercy and remembrance. At the heart of trust is remembering how God has fulfilled God's promises before, being sure that God will provide again, and knowing in one's very being that God is already at work on what is next. If we can bring advent joy, hope, love and peace into every day then perhaps we, with the gladness and exultation of Mary, might also proclaim with confidence "the Almighty has done great things for me and holy is God's name" wherever this journey of faith takes us –to new and unknown places, to new spiritual depths, to Christmas … to infinity and beyond!
The Rev. Chana Tetzlaff is an Episcopal priest with over two decades of leadership experience that includes public advocacy, social justice, teaching for transformative change, and interfaith collaboration. In January 2020, she will begin a new call as the Associate Rector at St. Christopher's in Carmel, Indiana. Her great joy in ministry is helping people of faith ask the hard questions of life and God, to discover that "it is in the shelter of each other that the people live" (old Irish proverb). Or, as Jesus said it, we truly show our love for God when we show care and concern for every person we encounter, like us or not. In her spare time, Chana can be found fulfilling her bucket list items before she turns 65 (so far 23/75!), playing D&D, dancing Lindy Hop, or exploring local activities and events with her husband, TJ, and their dog-children, Molly and Momo.